Alumni Spotlight – Kristopher Hall, PhD
Kristopher G. Hall, PhD
Carver Center for Arts and Technology  Class of 2001
In addition to being an alumnus, Dr. Hall worked with CUB as a residential tutor counselor for two summers.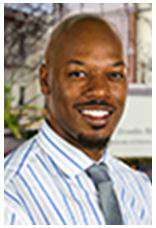 How did participating in Upward Bound benefit you?
Upward Bound benefited me by exposing me to colleges that I may not have seen on my own. Additionally, the SAT prep was important because it wasn't offered at my school. The increased scores helped me to get better initial scholarships.
What academic path did you take after leaving high school?
St. Augustine's College, BA; Seton Hall University, MA, EdS; the University of Central Florida, PhD
What are you currently involved in (academic, professional, etc)?
Currently, I'm an Assistant Professor at the University of San Diego teaching clinical mental health counseling.
What do you do for fun?
For fun, I like to explore new artists, take photographs, and figure out non-strenuous ways to stay in shape
Where do you see yourself in 10 years?
In 10 years I see myself tenured, being active in the community by growing awareness about mental health, and participating in international ventures regarding mental health
What advice do you have for current Upward Bound students?
Plan ahead as much as possible but be open to change. I missed a lot of opportunities because I didn't do enough research. At the same time, I was afforded many opportunities because I was willing to step out on faith and push forward.